Do You Need a Content Marketing Platform? It depends on the complexity and maturity of your content marketing program. 
It's no secret that content marketing is a key driver for brand awareness, demand generation and customer loyalty. In fact, 77% of B2B marketers say they already have a content marketing strategy in place (Content Marketing Institute).
But as content marketing programs grow, so too does the volume – and complexity – of their content. Our previous blog article, B2B Content Mapping: Build Content for Each Stage of the Buyer Journey, describes this evolution in more detail.
You may find that a robust content marketing program requires new technology, like a content marketing platform (CMP), to support it. In this article, we'll outline what a content marketing platform is, and how to determine if you really need one.
Defining the technology

The marketing technology landscape is constantly changing, and it can be difficult to keep track of all the tools available. So, we'll start with a quick overview of a content management system vs. a content marketing platform.
A content management system is a foundational tool that's typically used to build and manage your company's website. If you're doing business digitally, chances are you've already got a content management system. But a content marketing platform is a specialized tool designed specifically to support your content marketing efforts.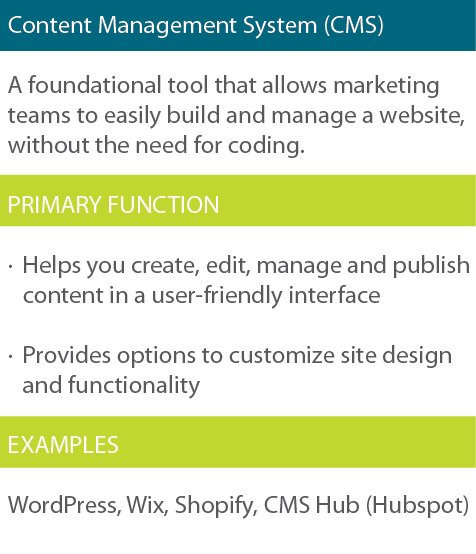 What features can I expect from a content marketing platform?

Content marketing platforms are designed to support teams throughout each stage of the content process. Most content marketing platforms offer the following functionality:
Reporting – Offers content-specific metrics like revenue attribution, leads and even internal stats like average content production time
Editorial calendar – Helps teams visualize and manage content milestones, assets, due dates and more
Workflows – Helps content creators manage the entire content production process, from initial draft to reviews and approvals to production
Ideation – Uses data to identify topics and phrases likely to resonate with your target audience, supporting a continual pipeline of ideas
Asset management – Gives you the ability to store and organize all your content assets in one place, making them easier to find
Integrations – Most tools offer some level of integration with content management systems, marketing automation platforms, or customer relationship management systems.
Do I really need a content marketing platform?

The answer to this question largely depends on three things: the volume, complexity and maturity of your content marketing program. Let's say you're just getting started, with an initial goal of publishing a blog post once a month or less. In this case, using WordPress to build and maintain a blog site may be all you need right now.
But if you've got multiple content creators and are publishing content weekly, chances are you've outgrown WordPress and may need a content marketing platform.
CMP benefits:
Reduces the time that content marketing teams spend on manual procedures and processes
Allows greater focus on content creation and performance optimization
Helps companies produce content at scale and understand ROI
3 key signs you may need a content marketing platform:
Your content marketing program is growing in maturity and complexity

If you have several people involved with content and your content volume and frequency continue to grow, a CMP can help you manage it effectively.

You're struggling to understand your content marketing ROI

Because CMPs collect data specific to content marketing, they can help you understand how your content is performing against business objectives.

You've run out of content ideas

Most CMPs have tools designed to help you with content ideation, often using search and social data to identify new potential topics.
Next Steps
Interested in further exploring the idea of a content marketing platform? We recommend completing the following steps before beginning your vendor search:
Document your content creation process from start to finish – This should include who does what and when, plus key milestones and activities.
Identify your top content marketing challenges – Take some time to reflect on what's working in your current-state program – and what's not.
Develop a list of desired content marketing platform features – Prioritize features based on the content needs, processes and challenges you outlined in the previous two steps.
Define a ballpark budget – Have a general idea of how much you could realistically spend on a content marketing platform.
It's important to note that content marketing platforms continue to evolve rapidly. In the future, we may see more hybrid CMS and CMP tools as the industry innovates and matures. For additional guidance as you begin your vendor search, check out these CMP reviews and ratings from Gartner Peer Insights.
Here at GrowthMode Marketing, we're experts at helping our clients build content marketing strategies that drive growth, and we can help you too. Contact us today to learn more.