How to develop a content roadmap that addresses your buyers' needs
You likely already know that B2B buyers spend a great deal of time researching and evaluating your solution before they ever contact you. In fact, recent data shows that when B2B buyers are considering a purchase' they spend just 17% of their time meeting with potential suppliers (Gartner). That means it's more important than ever to deliver the right content to the right buyers at the right time. How do you do this? With B2B content mapping.
Understand your audience
Effective B2B content mapping gives you a roadmap for how to build content that helps your buyers throughout their journey – and positions your company as a skilled expert along the way. But mapping content to each stage of the journey can be more difficult than it looks. To do it effectively, you need to have a deep understanding of your audience. This is where your buyer personas come into play.
If your company hasn't yet developed buyer personas – or if it's been a while since you've updated them – we highly recommend doing so before starting a B2B content mapping effort.
Create your journey map
Got your buyer personas on hand? Great! You're ready to start the B2B content mapping process. We like to kick this off with a journey-mapping approach like the one below from the Content Marketing Institute (CMI).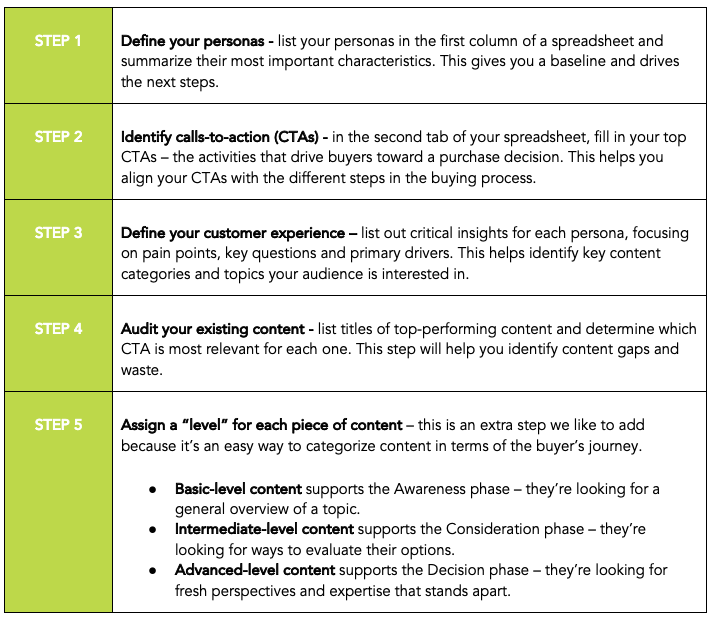 Develop your content strategy

Once you've completed your journey map, you can match up each step of the buyer's journey with the right type of content.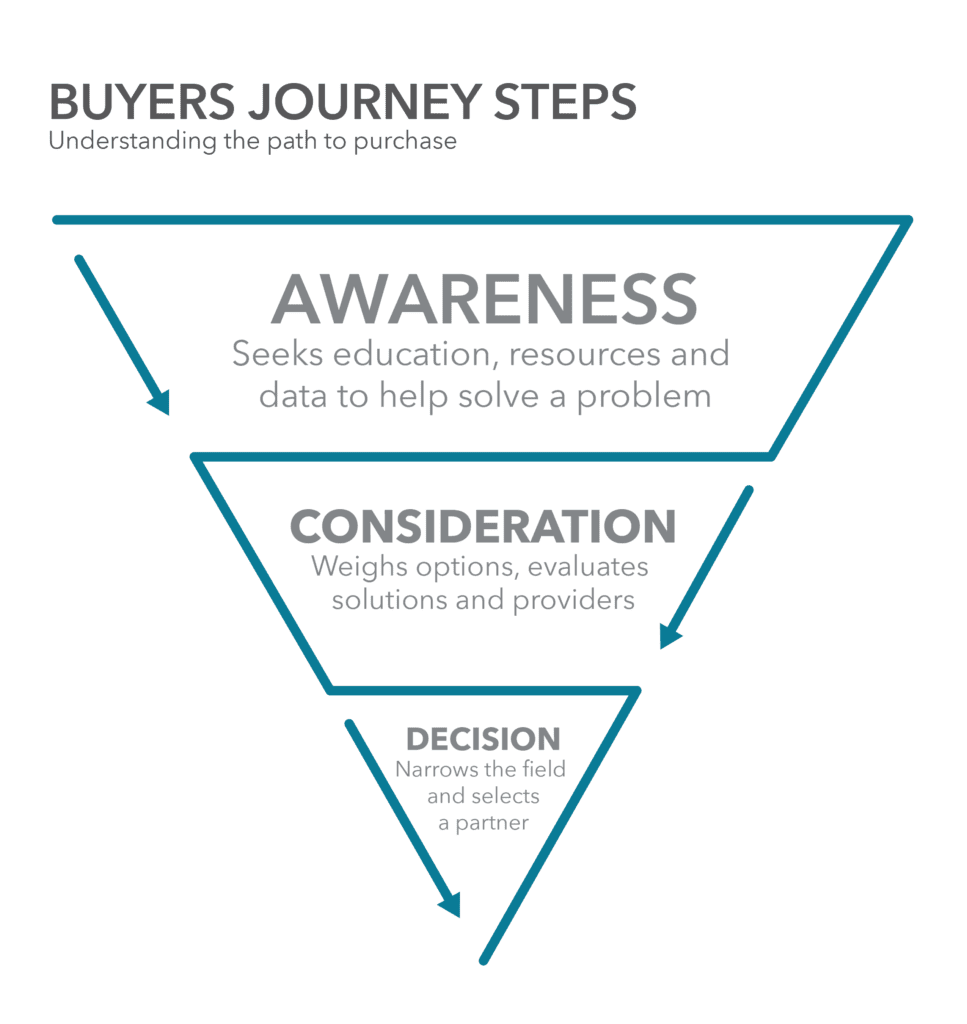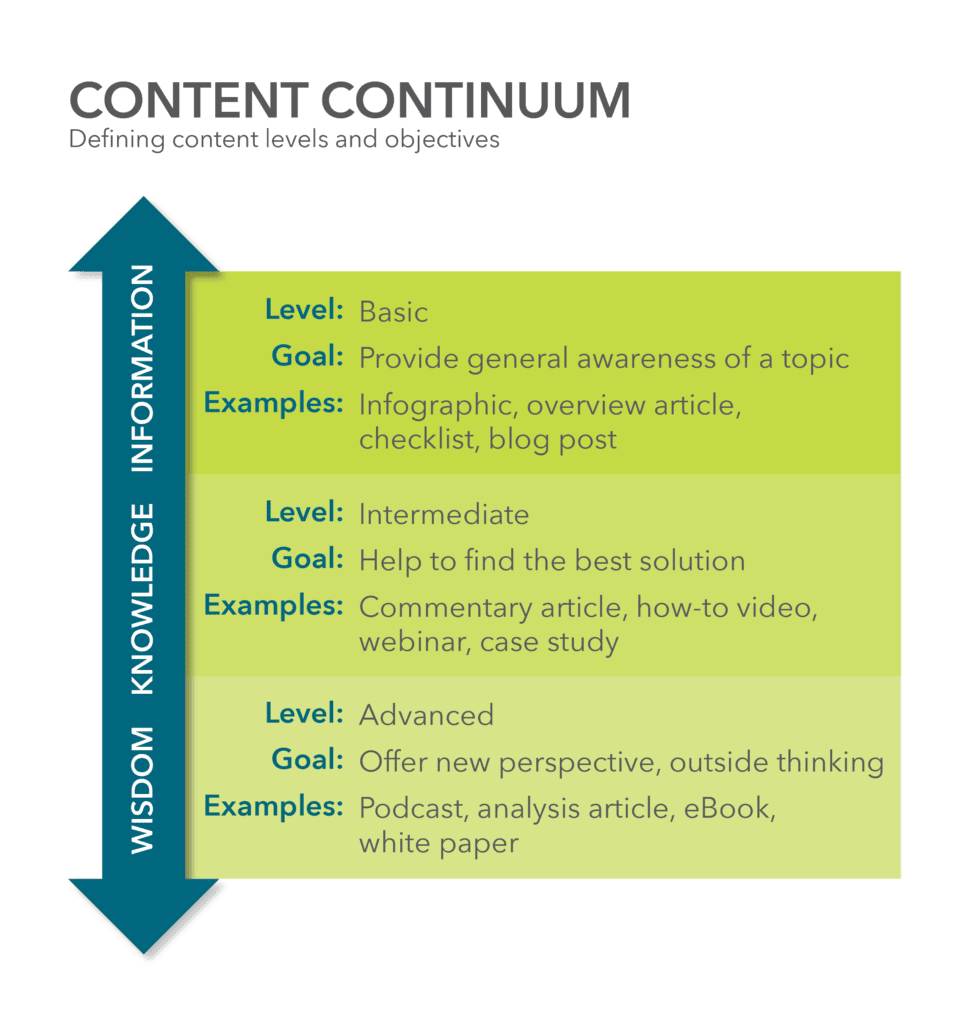 Content mapping example
Let's take a closer look at how B2B content mapping works with an example. Here's the scenario: An HR tech company creates a content journey map using information from their buyer personas. This work helps them identify Artificial Intelligence (AI) as a key theme their audience wants to know more about.
They don't currently have any content in this area, so how should they get started? Here's a content approach they could use for each stage of the buyer's journey:
Awareness Phase

A blog post titled, "The top 5 AI trends poised to transform HR"
Goal: Address high-level information needs for buyers at the beginning of their journey
CTA: Learn about more industry trends
Content level: Basic
Consideration Phase

A case study that examines how one company used AI technology to reduce costs and streamline its HR operations
Goal: Help provide real-world context for a specific solution as buyers start to compare options
CTA: Watch a demo
Content level: Intermediate
Decision Phase

An e-book titled, "An AI for HR Implementation Handbook: How to Avoid Common Pitfalls and Embrace Best Practices for a Successful Launch"
Goal: Offer detailed advice and best practices for those looking to implement a solution today
CTA: Conduct a readiness assessment
Content level: Advanced
Why B2B content mapping is worth the effort
The more you know about your buyers, the better you'll understand how they think, what keeps them up at night, and what content they need. B2B content mapping helps to ensure that your content connects with buyers at critical points throughout their purchase process. The result? Your buyers are more likely to turn to you as a trusted partner for a solution to their challenges.
Here at GrowthMode Marketing, we're experts at helping our clients build content strategies that drive growth, and we can help you too. Contact us today to learn more.