Unleashing the Power of Demand Creation Strategy: Ignite Your Business Growth
read
*THIS ARTICLE WAS CREATED USING AI. WE ARE CURRENTLY TESTING A TOOL TO EVALUATE RESULTS.
Introduction: Understanding Demand Creation Strategy
As your business navigates the cluttered HR technology market, you're likely seeking ways to stand out, build brand awareness, and ultimately drive high revenue growth. The answer lies in a powerful marketing approach known as a demand creation strategy. This strategy focuses on generating a sense of need for your specific brand or product in the market. In other words, it involves identifying audiences that are likely to be receptive to your marketing messaging and creating awareness and interest in your product or service.
In the sea of similar offerings, a robust demand creation strategy helps your business become the beacon that attracts the right prospects. It's not just about casting the net wide but about casting it wisely. It's about igniting the spark of interest in your brand amidst the audience that matters the most to your business.
So, how can you unleash the power of demand creation strategy to ignite your business growth? This article will take you through the intricacies of demand creation, its stages, the role of data, and how GrowthMode Marketing implements it. By the end, you'll have a clear understanding of how this strategy can help you build brand credibility, uncover interested prospects, and drive revenue growth. Stay tuned!
The Difference Between Demand Creation and Lead Generation
In the quest for growth, you might find yourself standing at a crossroads, wondering whether to focus on demand creation or lead generation. While both are critical aspects of a comprehensive marketing strategy, they serve distinct purposes and have different outcomes. Let's illuminate the difference between demand creation and lead generation to help you make an informed choice.
Lead generation is predominantly about collecting contact information and passing it to the sales team. The primary goal is to capture leads, assuming that the contacts are ready to buy. However, this approach can be flawed. In reality, a significant majority of these contacts (roughly 95% or more) are not ready to buy. Therefore, lead generation is more focused on short-term growth, providing contacts for sales to pursue and fulfill immediate growth objectives.
On the other hand, demand creation is all about generating interest in your brand and the products or services you offer. It is the process of getting your audience to consume your content and becoming genuinely interested in what you have to offer. The primary focus here is on attracting an audience, building brand awareness, and establishing trust with potential buyers. The desired outcome is to have your audience consume content, typically free and ungated, like a blog post on your company website. Unlike lead generation, demand creation doesn't assume that the audience is ready to buy. Instead, it nurtures them until they're ready, driving long-term growth by creating a shorter sales cycle, higher win rates, and lower customer acquisition costs (CAC) over time.
Understanding these differences is crucial in developing a marketing strategy that not only captures leads but also nurtures them through the buying journey, building trust and credibility along the way. So, while lead generation might be focused on filling the sales funnel with potential customers, demand creation is about warming up those leads and guiding them through the sales funnel, ultimately converting them into loyal customers.
In the next section, we'll dive into the stages of a demand creation strategy and how you can effectively implement it to ignite your business growth. Stay with us as we unravel the roadmap to successful demand creation.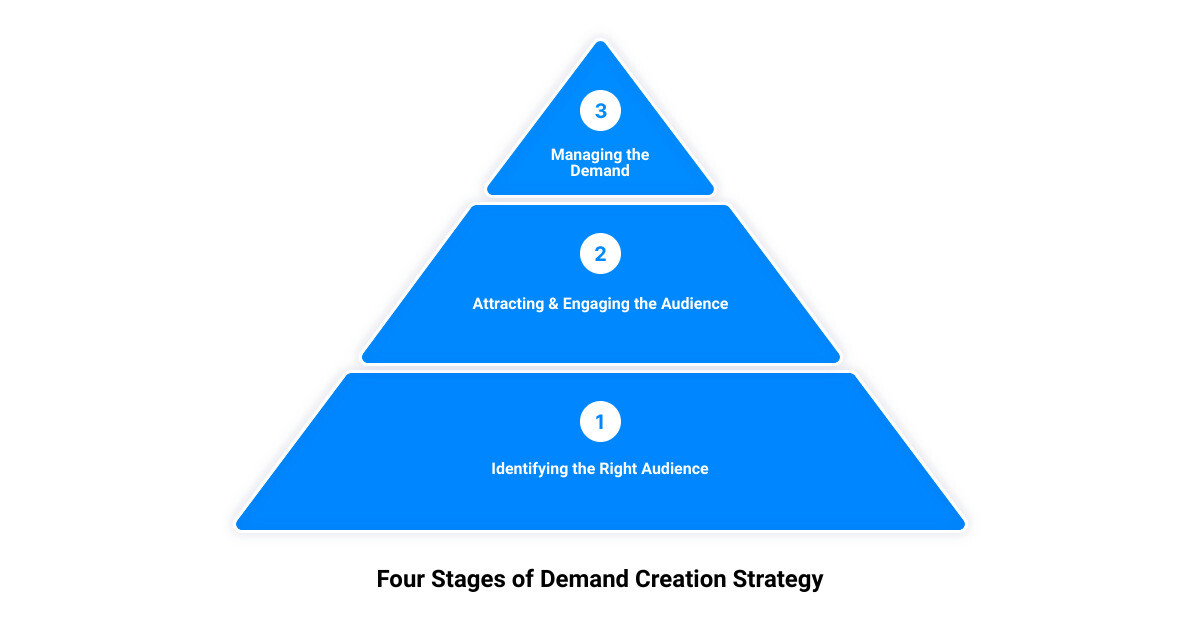 The Four Stages of Demand Creation Strategy
Unraveling the roadmap to demand creation success isn't a simple task. It is a strategic process that consists of four key stages. Let's take a closer look at each one of them.
Identifying the Right Audience
In demand creation, the first critical step is identifying the right audience. It involves conducting extensive research such as persona research, voice of customer research, competitive research, and focus group studies. This helps in gathering crucial data about prospective customers, their needs, preferences, and behaviors. You need to understand who your ideal customer is, what their needs are, and how your product or service can solve their problems. This step provides the foundation on which your entire demand creation strategy rests.
Attracting the Audience Through Marketing Tactics
Once you've identified your target audience, the next step is to attract them to your brand. This is where your marketing skills truly come into play. You need to use a mix of content marketing, digital marketing, print advertising, SEO, and email marketing to pique their interest. The aim is to create awareness about your brand and generate interest in your products or services. Remember, your marketing tactics should be tailored to the preferences and behaviors of your target audience.
Engaging the Audience with Clear Calls to Action
Engagement is a critical part of demand creation. You've attracted your audience, now you need to engage them. This involves giving your audience an easy way to respond to your ads, emails, and other communications. Every piece of content you put out there should have clear calls to action (CTAs). Whether it's clicking a button to find out more, downloading a white paper, signing up for a webinar, or making a purchase, your audience should be able to easily perform the desired action. This not only helps in engaging your audience but also in gathering valuable data about them.
Managing the Demand to Close Sales and Grow Customer Relationships
The final stage in a demand creation strategy is managing the demand you've generated. This involves having a solid plan for effectively handling the leads you've attracted and nurtured. The goal is to close sales, grow customer relationships, and realize revenue. This requires a proactive lead management process that includes nurturing, sales enablement, and lead recycling or reconstitution activities. Ultimately, the effectiveness of your demand creation strategy is measured by the revenue growth it delivers.
In a nutshell, a well-implemented demand creation strategy can provide a continuous stream of high-quality leads and significantly accelerate your business growth. In the next section, we'll discuss the role of data in demand creation strategy. So, stay tuned!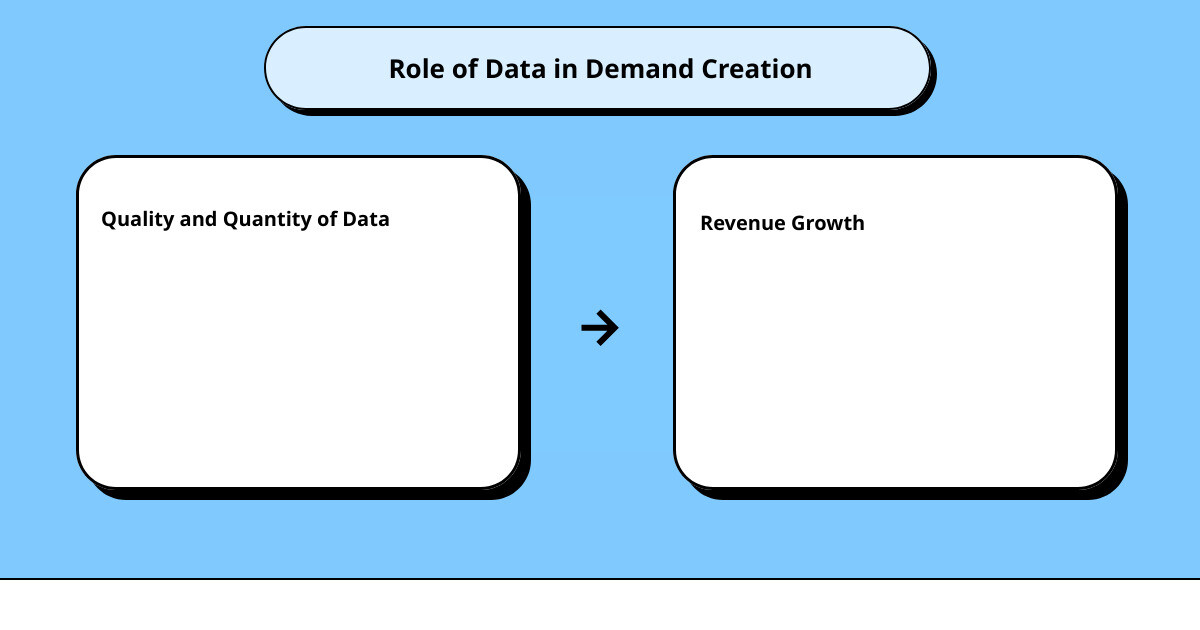 The Role of Data in Demand Creation Strategy
In the digital world, data is the lifeblood of any successful business strategy, and the realm of demand creation is no exception. The right data can provide a wealth of insights that will empower your demand creation strategy, enabling it to not only reach but also resonate with the right audience. Let's dive into this data-driven world and explore how the quality and quantity of data can impact your revenue growth.
Measuring the Quality and Quantity of Data
The first step in leveraging data for your demand creation strategy is to measure both its quality and quantity. But what does this mean? Put simply, data quality refers to the relevancy, accuracy, and completeness of the data you collect. On the other hand, data quantity is about the volume of data you have access to.
Take note: an abundance of irrelevant data won't do you much good. As such, it's crucial to focus on collecting high-quality data that's relevant to your target audience and your specific business objectives. This could include data about customer behaviors, preferences, and interactions with your brand.
But measuring the quality and quantity of data isn't just about collecting it. It also includes tracking how your audience engages with your syndicated content and how this engagement contributes to your pipeline growth. Keeping a close eye on these metrics can provide valuable insights into how effectively your demand creation efforts are resonating with potential buyers.
Impact of Data on Revenue Growth
Now that we've established the importance of measuring data quality and quantity, let's tackle the big question: how does this data impact revenue growth?
At its core, the answer lies in the ability of data to provide insights that can guide your demand creation efforts. For instance, understanding the number of opportunities generated can help determine the quality of your demand generation marketing. The average deal size can help forecast revenue from demand generation campaigns and decide what types of customers to target.
Moreover, understanding your sales pipeline value can help ensure your sales team is on track to reach their goals. Your customer acquisition cost (CAC) and cost per lead (CPL), when calculated accurately, can provide a clear picture of how efficiently your demand generation campaigns are generating revenue.
Finally, understanding the average sales cycle length and customer lifetime value (CLV) can provide insights into how well you're managing and engaging with your customers, indicating areas for improvement.
In essence, data provides a roadmap to your revenue growth, guiding your demand creation strategy and informing your decision-making processes. A robust data-driven approach can lead to lower customer acquisition costs, decreased sales cycle time, and increased deal size and pipeline value, all of which contribute significantly to revenue growth.
Remember, the power of data in demand creation strategy is not about having more, but rather making the most of what you have. As the saying goes, "Data is the new oil," and like oil, it's not about how much you have, but how well you refine and utilize it.
Demand Creation Strategies for New Brands
Unleashing the power of your business growth starts with implementing effective demand creation strategies. For new brands competing in a crowded market, these strategies can be the difference between getting lost in the noise and standing out to your ideal customer profile audience.
Giving Away Valuable Content or Offers
One of the most effective ways to generate demand is by offering valuable content or exclusive offers for free. This could be in the form of insightful blog posts, e-books, or whitepapers that provide solutions to the pain points your target audience is experiencing. The goal here is not just to attract potential customers but also to position your brand as an industry authority.
Providing Free Tools or Resources
Providing free tools or resources can be another powerful demand creation strategy. For instance, you could offer a free trial of your software or a free consultation service that can help potential clients see the value of your offerings first-hand.
Using Lookalike Audiences on Facebook
Social media, particularly Facebook, offers potent tools for demand creation. With Facebook's Lookalike Audiences feature, you can target users who share characteristics with your existing customers. This can help you reach a larger audience that is likely to be interested in your products or services.
Partnering with Industry Influencers on Webinars
Collaborating with industry influencers on webinars can greatly amplify your brand exposure. The influencers' endorsement can lend credibility to your brand, and their large follower base can help you reach a wider audience.
Utilizing Managed Placements in Display Campaigns
Managed placements allow you to choose specific websites or apps where your display ads will appear. This strategy can ensure your ads are seen by your ideal customers, which can lead to higher click-through rates and conversions.
Leveraging Display Remarketing for Brand Awareness
Display remarketing helps keep your brand top of mind among potential customers who have previously visited your website. By showcasing your ads on the websites they frequently visit, you can subtly remind them of your offerings and entice them to revisit your site.
Investing in Content Creation
Content is king in the digital marketing world. By consistently creating high-quality, SEO-optimized content, you can attract more organic traffic to your website, educate your audience about your products or services, and build your brand's authority in the industry.
Optimizing Email Marketing Strategies
Email marketing remains one of the most effective channels for nurturing leads and driving conversions. By personalizing your emails and segmenting your audience, you can deliver the right message to the right person at the right time, thus increasing the chances of conversion.
Implementing a Lead Scoring System
Finally, implementing a lead scoring system can help you identify and prioritize your most promising leads. By assigning points based on various behaviors and interactions, you can ensure your sales team focuses their efforts on the leads most likely to convert.
Remember, the key to successful demand creation lies in understanding your audience and delivering value at every stage of their journey. By implementing these strategies, you can ignite your business growth and establish a strong foothold in your industry.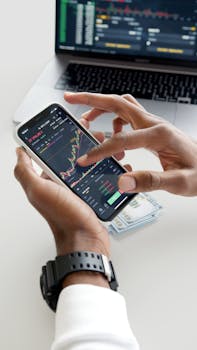 How GrowthMode Marketing Implements Demand Creation Strategy
Unleashing the power of demand creation strategy, GrowthMode Marketing utilizes a unique blend of growth marketing and traditional marketing principles to drive growth where it matters most to their vision.
Specialization in Demand Generation
As an agency specializing in demand generation, GrowthMode Marketing creates and launches programs that identify potential prospects based on behavioral data. The goal is to guide these prospects through a nurturing process to deliver high-quality, highly-qualified leads to the sales team. The key to every successful marketing strategy is to offer solutions that address each buyer's unique pain points, readiness to buy, content preferences, and their stage in the sales cycle.
Bridging the Gap Between Marketing and Sales
GrowthMode Marketing works seamlessly to bridge the gap between marketing and sales. They not only create awareness and actual interest in your solutions but also put your sales team in a better position to win with prospects who are actually ready to engage in a conversation. This approach is designed to shorten sales cycles and achieve higher win rates.
Building Brand Awareness, Credibility, and Trust
In the cluttered market of HR and workforce technology, building brand awareness, credibility, and trust is a must. GrowthMode Marketing is adept at this. They focus on generating awareness among your target audience, increasing brand recognition, and positioning your brand as the go-to in your industry. By providing content that solves problems and educates prospects, they effectively build trust and position your brand as a thought leader.
Uncovering Interested Prospects
GrowthMode Marketing goes beyond generating awareness. They are experts at uncovering prospects who show genuine interest in your solutions. This is done by offering a better experience for those who want to learn about your company on their own timeline. This approach ensures that the leads delivered to your sales team are not just any leads, but interested prospects who have been guided through a nurturing process.
In conclusion, GrowthMode Marketing's approach to implementing demand creation strategy is holistic. They focus on understanding your audience, creating awareness, building credibility, and uncovering interested prospects. This approach ensures that your investment is aligned with your broader strategic vision and helps you achieve high growth in a cluttered market.
Conclusion: The Power of Demand Creation Strategy for Business Growth
Harnessing the power of demand creation strategy can ignite significant growth within your business. As competition rises in the HR technology and workforce technology sector, standing out in a cluttered market requires a robust strategy that goes beyond generating leads. It involves creating an undeniable demand for your brand, products, or services.
The beauty of a well-executed demand creation strategy is that it is not a one-off campaign but a continuous process that generates long-term results. It starts with identifying your ideal customer profile, attracting this audience through targeted marketing tactics, then engaging them with clear and compelling calls to action. The process doesn't stop there. The demand created must be managed effectively to close sales and nurture customer relationships, further fueling revenue growth.
Data plays a crucial role in this strategy. Measuring both the quality and quantity of data gathered throughout the process allows for continuous optimization and improvement. As a result, over time, you'll witness shorter sales cycles, higher close rates, and lower customer acquisition costs that all contribute to substantial growth.
In the era of digital transformation, new brands can leverage a variety of strategies to create demand. From providing free tools or resources, partnering with industry influencers, to optimizing email marketing strategies, these tactics can help build brand awareness, credibility, and trust among your target audience.
At GrowthMode Marketing, we specialize in demand generation, bridging the gap between marketing and sales. By focusing on understanding your audience, creating awareness, building credibility, and uncovering interested prospects, we align your investment with your broader strategic vision. This approach helps you achieve high growth in a cluttered market, making your brand a force to be reckoned with.
In conclusion, unleashing the power of demand creation strategy can be your game-changer. It is a strategic, data-driven, customer-focused approach that doesn't just generate leads but creates a lasting demand for your brand. So, are you ready to ignite your business growth?