As your business grows, chances are you're navigating through constant changes. In today's fast-paced world, successful businesses are agile – they frequently fine-tune their business strategy or even alter it significantly as they evaluate shifting consumer demands and market conditions.
That same agile approach is equally important for your B2B marketing strategy. But when is the last time you did a complete evaluation of it, and re-examined your overall go-to-market approach? You may find that your marketing strategy just needs some fine-tuning – or a total reinvention.
(RE)SET THE FOUNDATION
If this feels like going back to square one, well, in some ways it is. But trust us when we say that doing some key foundational work is one of the most important steps in re-evaluating your B2B marketing strategy. Everything will be built around it, so the foundation has to be solid.
B2B Growth Marketing Model: Phase 1
Set the foundation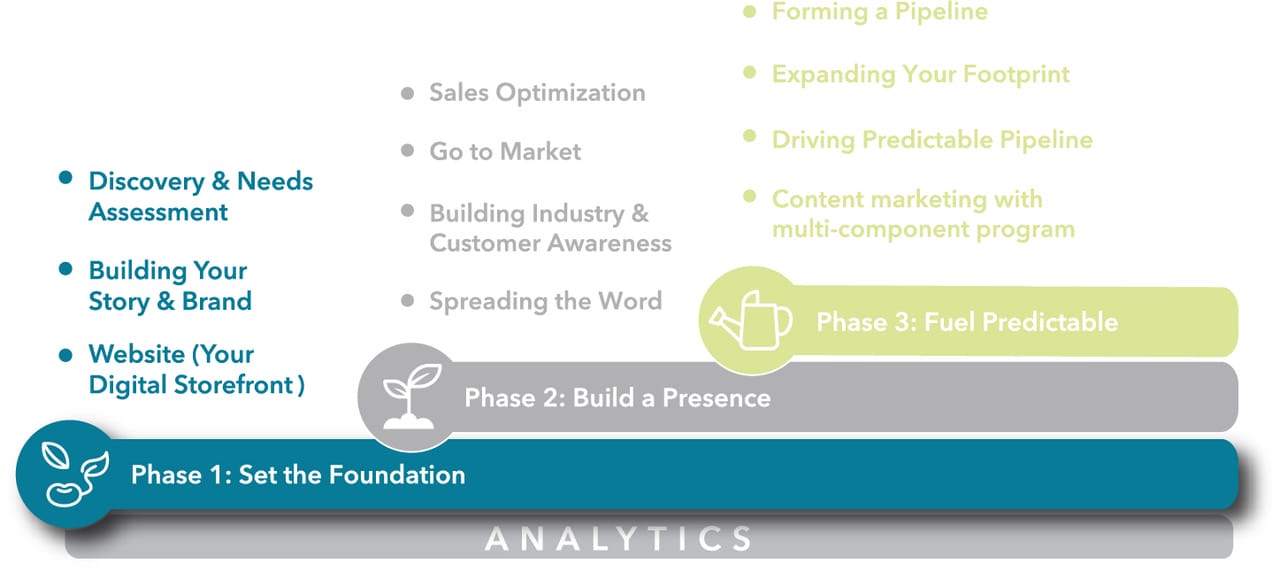 1. START WITH A DISCOVERY AND NEEDS ASSESSMENT
The findings from this work will drive your future marketing approach. You may get some unexpected insights here that will shape changes to your current strategy.
See what your competitors are doing – look at their websites, social presence, digital advertising and any other marketing activities you can get your hands on. What seems to be working, and what's not? What stands out most?
Find out what your clients are telling you – review any existing client data you have around your B2B marketing efforts. If you're not finding much, this could be a good opportunity to add some marketing-focused questions to your existing Voice of the Customer surveys.
Get feedback from key internal stakeholders – conduct interviews with employees who can give you a varied perspective on your current marketing efforts, including those from sales, product, operations, and research and development.
2. (RE)BUILD A UNIFIED STORY AND BRAND
Your discovery work will likely result in some valuable insights to help you re-shape your brand or product messaging and positioning. This is also a great time to create brand identity tools – and ensure they're used consistently.
Create a messaging framework to tell your story – define your value proposition, key messaging and differentiators. Do this at both a brand level and a product level, and you'll have a messaging hierarchy you can use to tell a consistent brand story and showcase unique products.
Develop buyer personas to adopt your customers' mindset – businesses that understand their clients' pain points, lifestyle drivers, media consumption habits and purchasing behaviors can better target their B2B marketing efforts and move the sales process forward.
Build a brand identity system, and use it – creating brand identity tools is one of the best things you can do to foster brand strength and consistency. This includes brand and messaging guidelines, writing standards, communication templates, logo and photography usage standards.
3. (RE)INVENT YOUR DIGITAL STOREFRONT
Is your website effectively helping you grow your business? An effective website has content that's findable, relevant and engaging – and generates high-quality leads.
Showcase the right content – this is a highly visible opportunity to bring your brand to life. Use the buyer personas, messaging framework and brand identity system described above as tools to guide you in developing content that resonates with your audience and drives leads.
Invest in search engine optimization (SEO) – your great online content can only drive great results if your prospects can find it in an online search. Investing in an SEO strategy (including paid search) and continually optimizing your content for SEO are key for success.
Measure and optimize constantly – use website analytics tools to regularly measure site performance, and then use those insights to improve your site and your content on an ongoing basis. Develop site performance benchmarks and track against them regularly.