Content marketing is the foundation of a successful demand generation strategy
Successful B2B content marketing happens when your company produces quality content that reaches its intended audience, and they find it compelling enough to interact with you as a result. The best part of this scenario is that leads are generated without any effort from your salespeople, giving them more time to spend on their most qualified opportunities.
Companies are increasingly turning to content marketing as the foundation for their demand generation strategy. And this is especially true today, as we see online channels continue to dominate the B2B buying process. In fact, 66% of B2B brands plan to increase their content marketing budget in 2022 (Statista).
If you're stepping into the content marketing game – or taking your strategy to the next level – here are five things you should know.
B2B content marketing is a cost-effective growth strategy
Most fast-growing companies know all too well that acquiring new customers can be an expensive undertaking. But content marketing can generate three times more leads at a cost that's 62% less than outbound marketing activities (Demand Metric). Why? Because high-quality content that's tailored for each stage of the buying journey has staying power. And if your audience can easily find that content when they reach the next stage of their journey, you'll see returns on it for years to come.
In fact, a successful B2B content marketing strategy should help you decrease customer acquisition costs over time as you develop more content. It works something like this:
You continue to provide your audience with an expanding pipeline of great content.
They engage with that content at multiple stages throughout the buyer's journey because they find it useful and relevant.
You begin to build their interest, trust, and loyalty through content that demonstrates your expertise.
Your lead pipeline grows along with your content library.
Your cost-per-lead decreases as you continue to develop more engaging content because your existing content continues to work as a lead generator.
In short, great content is a key asset that can drive long-term growth for your company. And that's why content marketing should play a central role in any B2B growth marketing strategy.
Building content for each stage of the buyer's journey is critical
You can't know or control where each buyer is at in their journey. Some are in the awareness phase: they're trying to understand a key problem they haven't encountered before. Others are in consideration mode: they know exactly what their problem is, and they're already comparing solutions and providers. Still, others are in the decision phase: they've fully evaluated the problem and have narrowed the solutions down to just a few final contenders.
When you don't know which phase your buyer is in, you need to develop content for each step in their journey. The beauty of this approach is that someone who's in an early phase now will eventually progress to the next step. We like to structure these content stages along a knowledge continuum.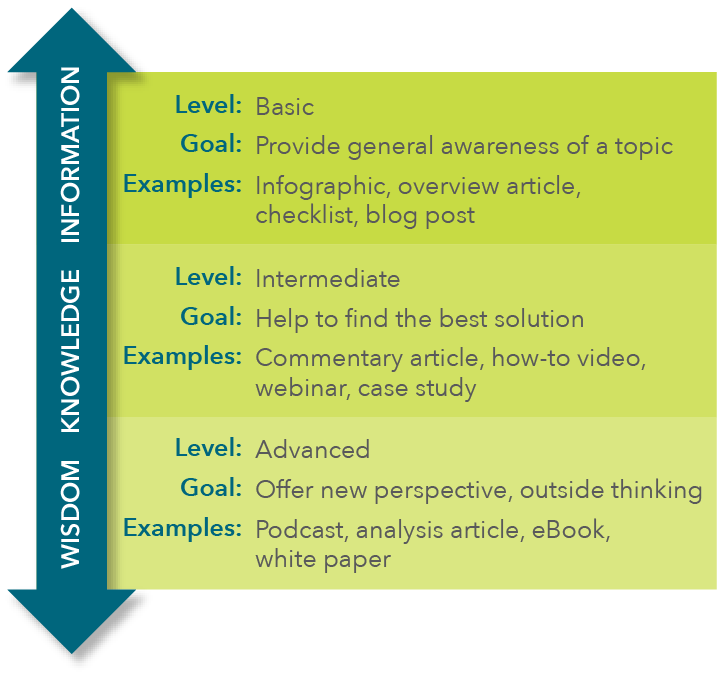 As you can see, content is typically simple and straightforward at the beginning, then gets more complex and sophisticated toward the end of the continuum. Think of it as the difference between an introductory "Physics 101" college course and an "Advanced Physics Concepts 301" class. The content for the advanced course builds on the introductory one. But most people need to start with the beginner course (or information-level content) before moving on to the more complex one (or wisdom-level content).
When you develop content across this continuum, then you know that you're meeting customers exactly where they're at in their quest for knowledge – and in their buying journey.
Repurposing content is an art – it takes time and effort to master
The best content marketers are experts at repurposing content. They can create a single asset, and then reuse it in many ways and places to connect with their audience. But at its heart, repurposing content is simply an exercise in re-packaging. You take the same asset and find different ways to present it across different channels, and sometimes for different audiences.
For example, let's say our core content asset is a webinar recording from a manufacturing company. This hour-long discussion featured several engaging panelists and a lively Q&A session. The company is looking for ways to amplify and leverage this content across multiple channels. Here are some ways they could reuse and repurpose it:
Create an infographic highlighting a handful of key statistics and quotes from the session and publish it on their blog site.
Break apart the webinar into a short video snippet for each panelist that highlights a few of their key insights. Publish each of these on the company's YouTube channel and then use them as social posts to tease the webinar recording.
Build an article based on the most relevant questions that came up during the Q&A session and send it as a follow-up to key customers or prospects who attended the event.
Create an article summarizing key insights from the webinar and publish it in the next client newsletter.
Publish the audio recording as an episode on the company's podcast, and have salespeople promote it on LinkedIn.
Look for opportunities to pitch the same topic and panelists at a prominent industry conference.
You can see how one piece of content – a webinar – can be leveraged and amplified in many ways. And over time, you'll begin to learn which channels, topics and formats resonate most with your audience. So don't be afraid to take a try-and-see approach, especially if you're just building out your B2B content marketing strategy. The art of repurposing content can take some time to master. But trust us, it's worth the effort! Because every time you succeed with repurposing, you're getting that much more mileage out of your initial content investment.
Original research builds an authoritative voice quickly
One of the quickest ways to create an authoritative voice in a crowded industry is by sharing your own original research. This type of content is highly engaging because it's totally unique. Original research often taps into data and perceptions directly from your audience, offering a pulse-check on what matters most to them.
Your original research could take on the form of some top insights from an annual customer survey on industry trends or challenges. Or perhaps it's a deep dive into key perceptions on a single hot-button issue that you've explored in customer focus groups.
If you've never conducted your own research for a formal study before, you can start small and build on that foundation over time. Consider adding a component to your customer satisfaction survey that covers industry trends. Or poll your event attendees about what's keeping them up at night. Then share the results as part of your B2B content marketing strategy.
This can be a very effective way to build your reputation as an industry thought leader. Learn more about the importance of thought leadership in our recent blog post: HOW TO BECOME A B2B THOUGHT LEADER
SEO matters in B2B content marketing
Because nearly 70% of all online experiences begin with a search engine (BrightEdge Research), it's important that your content appears prominently when your potential buyers do a keyword search. And when searching, they're far more likely to type in specific problems or terms rather than a company name. That's why driving organic traffic to your content is a critical part of building a B2B content marketing engine that works.
Great content marketing connects the keywords buyers use in their searches to your brand. This helps to drive SEO and improve your search engine rankings. You can use Google's Keyword Planner tool or a paid service like BuzzSumo to find the best keywords to use in your content. Incorporating these keywords throughout your content will help improve your search engine visibility – and ensure your content is seen by potential buyers.
The Takeaway
At some point, every one of your customers started out as a prospect who didn't know much about your business or what you stood for. And today, that prospect's first interaction with you is likely to be a digital one. That's why building a strategic B2B content marketing program designed to nurture that online relationship (wherever your buyer is in their journey) is the foundation for successful demand generation.
Here at GrowthMode Marketing, we're experts at helping our clients build content marketing strategies that drive growth, and we can help you too. Contact us today to learn more.