Gearing up for Annual Marketing Planning, Budgeting & Forecasting
By: The GrowthMode Marketing Team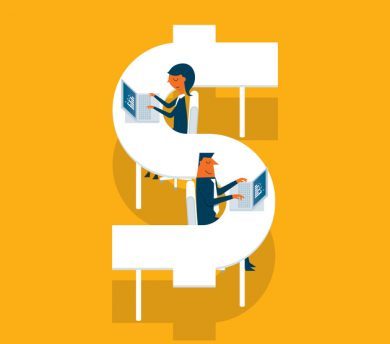 Few words can inspire as much trepidation as "it's time for annual planning!" Visions of late nights trying to pull the previous year's expense data, anticipating what marketing resources you'll need to execute your strategies, and then putting it all together in a compelling package to sell to your leadership team – it's enough to put even the most seasoned B2b marketing professional into a tailspin. 
Fear not, the GrowthMode Marketing team is here to help with some trends and tips to consider as you enter into this budgeting season.
Trend #1: Baseline budgets are often based on percent of revenue and directly align with company growth strategies.
First off, what's a reasonable baseline for your marketing budget? According to the Gartner CMO Spend Survey 2017-2018, budgets slipped from a peak of 12.1% of company revenue in 2016 to 11.3% in 2017.[1]  (Another way of looking at marketing budgets is as a percentage of your company's overall budget. On average, B2Bmarketing budgets make up 11.5% of total company budgets.[2])
While looking at previous spending can provide a budgetary starting point, it can also be dangerous as it doesn't account for shifts in strategy or marketing contribution. As Gartner points out in the Spend Survey, "Budgeting methods that lean heavily on historical data rely on the assumption that the logic that drove those decisions was and will remain sound. When this logic fails, as it often does, CMOs are left overinvesting in areas that don't yield measurable returns."
Trend #2: Allocate your marketing budget across B2B marketing channels based on your priorities and influenced by marketing trends.
We often have clients ask us, "How should I break out my spend? What's a "normal social media budget?" We encourage you to think first about how you will build programs that meet your business priorities, and then comprise your marketing budget accordingly.
As a point of reference, many marketing departments break out their budgets into online and offline buckets. Forrester Researchand eMarketerreports show the estimated allocation of marketing funds:
41% of 2018 marketing budgets were allocated to online, and this rate is expected to grow to 45% by 2020
Search engine marketing captured the largest share of online spend with online display (banner ads, online video, etc.) taking the second largest share
Online video represents the highest growth category, with the anticipated investment more than doubling 2016 numbers by 2021. In fact, Cisco predicts that by the end of 2019, more than 82% of online marketing campaigns will include video[3].
According to Forbes[4], in 2019 we will see more money going to content marketing, influencer marketing, referral partnerships and other methods that are designed to deliver actual value to audiences.
Trend #3: Build B2B marketing analytics into your marketing plan (and budget if needed).
We can't stress it enough – don't forget data analysis! With accountability being the name of the game, CMOs allocated 9.2% of their total marketing expense budget on marketing analytics in 2017-2018, and this percentage will continue to grow. This significant budgetary commitment is grounded in CMOs' understanding that analytics is central to delivering customer experience, identifying, understanding and growing customers, and measuring and optimizing marketing performance.
Five Tips for Building Your Annual Marketing Plan and Budget
Understanding key marketing trends will help you take a forward-looking approach to building your budget. With this data in hand, here are some quick tips to building the best marketing plan and budget for the year ahead:
Tip# 1: Start with high level categorization.
Start at a high level by tying a certain percentage of your B2B marketing spend to direct revenue goals and a certain percentage to infrastructure. When you think about the infrastructure budget, remember to consider your team's experience and time to effectively learn and use the tools, and account for training or consultation. Sometimes it makes more sense to outsource the marketing automation needs vs buying the software and hiring a marketing administrator to manage it.
Tip# 2: Allocate marketing budgets based on growth goals.
Consider your organization's growth stage. For example, if you're in a growth mode, you'll need to generate top-line revenue at a faster rate, so you might consider deeper investments in more of the quick-win marketing techniques, such as lead generation campaigns. Steadier growth would require investments in a longer-term B2B marketing play such as publishing extensive thought leadership content to earn new business over time.
Tip# 3: Think through your marketing needs by initiative, and then apply budget dollars.
Identify your three to five primary B2B marketing strategies and outline at a top level the tactics and resources you will need to execute on these strategies. For example, if one of your strategies is launching a new product offering, what channels will you use to generate leads? What tools will you need for the sales team? You get the idea.
Tip# 4: Account for metrics and analytics.
Be clear about how you will measure the performance of your marketing investments as you are building your budget and ensure that you are allowing sufficient time to see results. When you tie specific budget items to B2B marketing goals, understand how much time it will take to accurately determine the performance. You want to have enough flexibility in your budget so that you can adjust tactics as needed.
Tip# 5: Set aside a slush fund.
Ensure you have a placeholder budget for projects that arise that aren't on your plate yet.  Will you want to use outside resources, such as freelancers or an agency to address these projects? If you run a lean internal team, it often makes sense to outsource some projects if you don't have the capacity. Simple, discrete projects often are a good fit for freelance resources, where longer term, more complex projects may benefit from the expertise of a B2B marketing agency.
Creating your 2019 marketing budget doesn't need to be a dreaded, daunting task.  It can actually provide a sense of focus and a clear roadmap for how you will put your resources and your marketing budgets to work in the best way.
Need a second opinion?
At GrowthMode Marketing we regularly help our clients identify their B2B marketing strategies and determine budgets. The right planning and budgeting allow you to step back and demonstrate the value marketing brings to your organization. Contact us for help building your marketing plan and budget, and we'll help you position marketing as an investment that will bring a quantifiable ROI over time.
Sources:
[1]https://www.gartner.com/smarterwithgartner/2017-2018-cmo-spend-survey-highlights-demand-for-results/
[2]https://www.webstrategiesinc.com/blog/how-much-budget-for-online-marketing-in-2014
[3]http://www.b2bmarketingzone.com/2019/trends/?open-article-id=8462896&article-title=digital-marketing-trends-2018–mid-year-update&blog-domain=bluetext.com&blog-title=bluetext
[4]https://www.forbes.com/sites/johnhall/2018/06/17/5-marketing-trends-to-pay-attention-to-in-2019/#3095e20c60f7
Subscribe

Receive alerts when new posts are added

Our Latest Tweet

Time to celebrate! GrowthMode Marketing is No. 1,119 on this year's #Inc5000 list. See the full list here:… https://t.co/BidoddAxaz