3 Cool Summertime B2B Marketing Hacks
By: The GrowthMode Marketing Team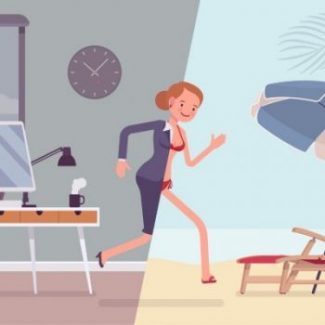 Summer: soaring temperatures, summer vacations, slower pace. Yes, there is much to love about this time of year. As a B2B marketing professional, you may be tempted to ease up on marketing activities – everyone is out of the office, right? While there is some data to support that online search traffic tends to decline in the summer months , experienced marketers know this is often the calm before the "we need to make our year-end numbers" storm. 
Fear not, you can enjoy lemonade in your hammock and keep the marketing momentum going with these three clever approaches or hacks.
Hack #1: Clean (Your Database) House.
While you might have done your home spring cleaning just a few of months ago, now is the perfect time to scrub your contact lists and establish a data hygiene process. If you have the luxury of having resources that handle these tasks and have a process in place, the slower summer months is the perfect time to actually review and analyze your lists. Here's what you're looking for :
Consistency: If you've pulled the data from numerous sources, such as spreadsheets or other databases, make sure that you've got the right information in the right order and in the right columns (e.g., your contact's first name, last name, email address, mobile phone number, mailing address, etc…).
Gaps: What information are you missing about a particular contact and what action can you take to fill in that hole? This issue may require purchasing a list or using some external data sources to help complete or verify the data.
Formatting: Ensure a standard format for each data field and normalize it (e.g., street, st., strt. are all converted to St.). Make sure to check and reformat email and web addresses, too.
Duplicate data: Identify potential duplicates by looking for misspellings, missing values or different address orders.
Good (highly vetted) list vendors and data integrity tools can help make these tedious chores an easy reality. After all, a solid database is critical to successful lead generation and nurturing campaigns, but just like housecleaning, it's often an avoided task.
Hack #2: Create Content.
Wouldn't it be nice to have some engaging content readily available for the next campaign instead of the fire drill to pump something out quickly (and often not of the best quality?) This is a rhetorical question, but it may not be an easy one to solve. Reference our previous blog on creating a comprehensive B2B marketing strategy and apply this systematic approach to get your content engine running:
Conduct a content audit to gain a better understanding of any gaps that need filling or content that needs updating. For example, do you have a lot of top-of-funnel, awareness building assets, but lack middle or bottom funnel case studies?
Talk to internal stakeholders (Sales, Product Management, etc.) to discover what content they need and would use the most. Validating the usage and success of your existing assets offers insights, too.
Reach out to customers to find out what topics, challenges or trends they'd like to learn more about. You can also pick up ideas by following industry association blogs and other publications your target audience enjoys.
Develop a content marketing calendar or asset wish list so you have a roadmap for asset availability that you can reference for campaigns and share with your sales partners.
Understandably, you may not have the internal resources or capacity to develop the rich content you need, so consider outsourcing the content execution to a B2B content marketing agency like GrowthMode Marketing.
Hack #3: Focus on inbound.
While traffic to your website may slow down during the dog days of summer, you can still work on converting each visit to your site. In fact, this slower time is ideal for analyzing data to see what areas are performing well and what areas could use some improvements. Some things to consider:
Where are visitors getting stuck? Find these roadblocks and do whatever you can to remove that friction. If you don't know how to figure this out, take a step back and determine the metrics and formulas you need.
It's all about the search, so ensure that your site is optimized with unique content, keyword-rich tags, and inbound/outbound links. For more SEO considerations, check out our handy 10-point checklist.
Since conversion is your ultimate goal, run some A/B tests on your contact form and consider removing the main menu navigation from some of your pages. When marketing analytics firm Oribi examined more than 150 B2B marketing sites, they found that in over 70% of the cases using a lighter version of the main navigation bar – or completely removing it on strategic pages (such as features, pricing, or whitepapers) – helped increase the number of signups and other main objectives .
By providing a relevant website experience to visitors, you'll increase conversion rates and get those leads queued up for Fall.
We hope that you find value in these three B2B marketing approaches as you recharge your batteries and gear up for Fall.
If you are in need of a growth-minded marketing partner you can rely on, the team at GrowthMode Marketing would love the opportunity to help you manage your initiatives year round with less stress. Contact us today for a free consultation.
Sources: 
[1]http://www.mediative.com/seasonality-in-search-activity/
[2]https://www.quora.com/What-steps-should-be-included-in-a-data-cleansing-process
[3]https://www.marketingprofs.com/articles/2018/34941/10-overlooked-b2b-optimization-opportunities-to-boost-your-website?adref=nlt070218

Subscribe

Receive alerts when new posts are added

Our Latest Tweet

Time to celebrate! GrowthMode Marketing is No. 1,119 on this year's #Inc5000 list. See the full list here:… https://t.co/BidoddAxaz