We're making a (year-end content marketing) list and checking it twice
By: The GrowthMode Marketing Team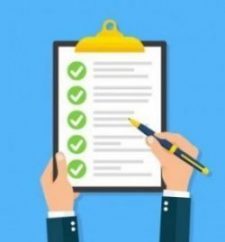 As the year draws to a close, clients often ask us for advice on spending year-end budgets in the most effective way. We all know that once January rolls around, work kicks into high gear. So, what can you do now to make the next year a little easier?
Our advice? Get your content marketing ducks in a row. 
According to the Content Marketing Institute's annual "B2B Content Marketing: 2018 Benchmarks, Budgets, and Trends – North America" report, 91% of respondents are doing content marketing. Of that 91%, the most successful content marketers have access to 40% of the total marketing budget, while the least successful have just 14% of the marketing budget.
Here are five places to address now:
1. Conduct a Content Audit.

Begin by understanding what works (and doesn't) for you now. A good analysis will include a review of your topics, search performance and engagement metrics so you can objectively see what's working, what isn't and how you can improve to drive more leads and pipeline in 2019. During the audit, check out your competitors. What have they said throughout the year and to whom? Are there any patterns or trends you could benefit from?
2. Conduct a Year-End Survey.

Online surveys are a great way to find out what your clients think about you and what their priorities are. Create a quick 5-minute survey so you can learn what you're doing well and where you need to improve, and then use that knowledge to inform your marketing strategy for 2019. (Hint – surveys are also a great way to get ideas for editorial topics.)
3. Document Your Content Marketing Strategy.
You need (and hopefully have) a plan for publishing engaging content that moves prospects through the buyer journey. As you build your content strategy, first consider your audiences. Are you targeting your content to decision makers, influencers and key stakeholders? Does your business strategy identify key vertical segments or geographies? Highly targeted content almost always performs best. Take the time to investigate segmentation. Also, look at seasonal trends and topics, the buying cycle and editorial calendars published by key industry leaders, editors and bloggers. A solid strategy makes it much easier to stay focused on the big picture and deliver a content strategy aligned with your marketing and sales goals.
4. Develop Your 2019 Editorial Calendar.

Your editorial calendar gives you a birds-eye view of when you plan to publish content, and it's a key component of your bigger content marketing strategy. Make sure your calendar shows editorial themes across all of your marketing channels (blog, email blasts, social, etc.), that it accounts for seasonal trigger events (like tradeshows or holidays) and that, most importantly, it's visible to your entire team. Be sure to build in some wiggle room to allow coverage for hot topics as they arise. For example, if your industry has a looming legislative change, or there is a huge new innovation in play, make sure your calendar has the flexibility to allow for some real-time content marketing.
5. Kick off the new year with a (Content) Bang.

Nothing says, "I'm a thought leader" more than a well-researched article predicting major industry trends, insights or disruptions for the coming year. Get ahead of the pack by offering up your company's unique perspective before your competition.Just make sure that this piece (like all of your content) ties back to the goals of your content marketing strategy.
Content marketing is one of your most effective tools for building your brand, growing your business and demonstrating your role as a thought leader. Investing in a few simple year-end planning essentials can go a long way in setting yourself up for a successful new year. Cheers!
Do you need help checking one (or all) of these content marketing activities off your list? Give us a shout. At GrowthMode, we're happy to help you finish the year off strong! Contact us at info@growthmodemarketing.comor call us at 651-447-4050.
Subscribe

Receive alerts when new posts are added

Our Latest Tweet

Time to celebrate! GrowthMode Marketing is No. 1,119 on this year's #Inc5000 list. See the full list here:… https://t.co/BidoddAxaz