Aligning Sales & Marketing: It's A Two-Way Relationship
By: The GrowthMode Marketing Team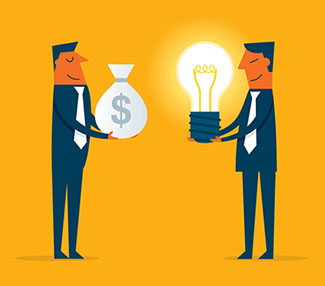 Relationships are complicated. It requires hard work, support, dedication, an open mind and a commitment to make the partnership mutually beneficial. No, we're not talking about the relationship with your spouse or significant other. We're talking about Marketing's relationship with Sales – which has become notorious for being difficult and contentious. 
At GrowthMode Marketing, we've worked with numerous sales teams and through our collective experiences, we've come up with the following tips to enhance and strengthen the relationship between the Sales and Marketing teams.
Get on the same page – understand what you want out of the relationship
At the end of the day, we all want the same thing – closed deals. How we get there is where Sales and Marketing need to come together. Here are some tips to get on the same page:
Understand the buyer journey – Make sure you both understand how buyers make the decision to purchase from you. This way, Marketing can develop the right tools and resources to help guide that journey. A great place to start is with a content map – see "Establish the Content Journey" as part of our blog "5 Steps to a Comprehensive Content Marketing Strategy."
Ensure proper lead hand-off – 9 times out of ten, Sales will tell you they would rather sacrifice the volume of leads for better qualified leads. Make sure that Marketing is handing off leads at the right time, knowing that it will take more than just one touch to get the attention of a prospect.
Gain executive support – Don't discount the support of others in your mission to get along with Sales. Getting the buy-in from an executive sponsor can help elevate what you're both trying to accomplish; driving business for the company.
Get to know one another – communicate and give feedback regularly
As mentioned earlier, relationships are complicated. Taking the time to understand each other and learning what makes the other "tick" are keys to a successful partnership. Here are just a few ways to keep the lines of communication open:
Join each others' meetings – More often than not, you will learn something about Sales and vice versa by attending each other's' team meetings. You may learn another aspect of Sales that may alter how you perform your role; Sales may very well learn that Marketing is a blend of art and science.
Conduct roundtables – Another great way to learn about Sales and their process is to conduct roundtables. Take the time to analyze the steps (from both Marketing and Sales) that lead to the closing of a deal and create a process for repeating it. Review the losses too to see what adjustments can be made to get that opportunity to the finish line.
Have an open mind – Avoid a "my way or the highway" mentality. Putting your ego in check means that you can put yourself in Sales' shoes in order to make the necessary adjustments as it pertains to content generation, lead generation programs and the like. Be open to learning from each other for the sake of your prospects, clients and the company.
Don't keep it all to yourself – share often
We're all very busy but that shouldn't keep us from sharing information with one another. In fact, sharing is a key component to ensure that no one is left in the dark, opportunities are followed up with and programs are executed properly. Here are some final tips to consider:
Update each other – Don't let all of your hard work be in vain. Keep Sales updated on what you're working on, tools they have access to and information they can share with their networks. Keep each other in the loop by sharing feedback as it relates to marketing programs, content, etc. via emails, meetings, face-to-face conversations or simply picking up the phone!
Keep a repository – Make sure the Sales team knows where you're keeping all of the great content you're generating. Try to keep it all in one place, like your company intranet, for example. Make sure everything is properly labeled and easy to find – and refer to it often. Also, make sure to take the time to clean it out often so it stays up-to-date.
Track progress – As noted in our previous blog "The Anatomy of a Good Lead", make sure Marketing and Sales efforts can be tracked and shared with stakeholders in the company; together you can show your joint effectiveness over time.
The roles of Marketing and Sales are not mutually exclusive; it takes combined efforts to ensure that prospects convert to leads, leads to opportunities and opportunities to closed deals. What it comes down to is driving revenue for the business. Respect each other's roles and be open to learning from one another. Together you can build a stronger relationship and a stronger company.
Help your Sales team excel with support from GrowthMode Marketing. We're a full service B2B agency focused on helping companies achieve high growth. Contact us today to learn more!
Subscribe

Receive alerts when new posts are added

Our Latest Tweet

Time to celebrate! GrowthMode Marketing is No. 1,119 on this year's #Inc5000 list. See the full list here:… https://t.co/BidoddAxaz