5 Telltale Signs Your B2B Marketing is Missing its Mark
By: The GrowthMode Marketing Team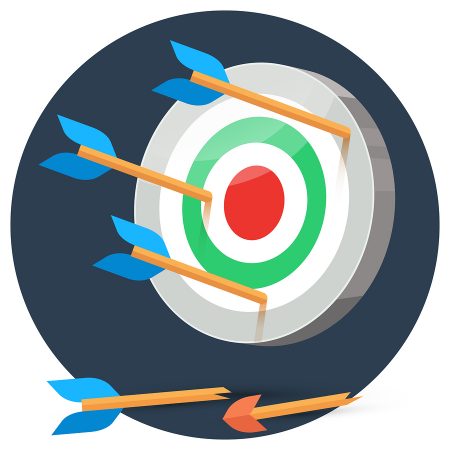 Marketing is sometimes explained as "part art, part science." When you have the gut feeling that your marketing efforts aren't working, is that the art part? Then the science part must come into play when the numbers aren't stacking up, right?
Human nature certainly comes into play when assessing the success of your B2B marketing program. If you are accountable for the marketing results in your organization, it's natural to try to put a positive spin on your observations or to place the blame elsewhere (why don't those sales people follow up on the leads anyway?)
It's best to simply "rip off the band aid" and get on the road to marketing recovery. Here are five telltale signs, or symptoms, that your current marketing plan isn't working for you.
1. The pipeline is dry.
Are prospects reaching out in interest? Can you see how you'll build upon business with your existing customers? Are your sales people making desperate outreach attempts on LinkedIn, or worse, twiddling their thumbs? If you answered yes to any of these questions, you are in good company. According to a HubSpot marketing survey, 63% of B2B marketers report that their company's biggest challenge is generating traffic and leads.[1]
Healthy marketing efforts ensure that you have a steady stream of prospects in various phases of the buying cycle. Those that aren't yet ready to buy have a positive perception of your company and what you offer because you've nurtured them through your marketing efforts. Those that are in decision-making mode consider your company one of their top options based on the marketing information you've provided. If you're relying too heavily on a handful of customers and don't know where you'd get more business, you need to build up your pipeline.
2. Your employees aren't aware of your marketing goals or results.
If your own team can't articulate your marketing goals, how can they effectively execute against them? Without a roadmap, marketing efforts can become a smattering of different tactics that don't work together to make an impact.
B2B marketing plans don't need to be fancy or formal, but they do need to clearly document your goals and how you'll be measuring against them. And this document can't reside on your computer or get routed one time. This living, breathing document needs to be continuously updated and shared with the key stakeholders as well as anyone who plays a role in the customer experience (i.e., product, sales, support, etc.) MarketingProfs offers excellent rationale for using the marketing plan to focus your team and provides a simple template in this article.
3. Your results are waning.
In the past, you sent out two emails, followed by a phone blitz with great results. Since it's worked before, you continue with this same approach over the next 12 months, but each time you are getting fewer and fewer appointments. Your sales people are becoming despondent as their outreach efforts are often met with irritation (if not ignored.)
B2B marketing isn't a case of "set it and forget it." According to the Direct Marketing Association,over 75% of email revenue is generated by triggered campaigns, rather than one-size-fits-all campaigns[2]. If you're analyzing your campaign results on an ongoing basis, you would start to make adjustments – such as implementing a triggered campaign — when you noticed the diminishing returns.
4. You are invisible in the market.
If you're at a trade event and you have to give other attendees a five minute explanation of your company and what you offer, it's not a good sign. You should at least register as a competitor to those in your space.
As noted in this excellent Forbes article, brands are built through the consistent delivery of your brand promise through all stakeholder touch points. You don't need a big PR budget or a fancy website, but you do need to employ these channels in your B2B marketing program to be successful. Look at what your competitor's are doing and learn from it. How are they positioning what benefits they offer and how can you differentiate?
5. Your customers aren't loyal to you.
A survey by Korn Ferry Institute revealed that more than one-third of CMOs and marketing leaders said that creating sustainable and engaging customer relationships and improving the customer experience was a primary objective that keeps them up at night[3].
If your B2B marketing efforts are solely focused on bringing in new business, you're forgetting a very important audience – your customers. If you aren't reinforcing the benefits of doing business with you, the next time your customers are faced with another purchase decision or renewal, they will start looking elsewhere. Because they don't understand the true value you bring to the table, you may need to offer discounts or other unfavorable terms simply to hang on to their business.
If you're noticing any of these signs that your marketing isn't working, step back and assess what changes you can make to get back on track. When you're in the thick of things or tapped for resources, it can be difficult to even notice, much less course correct, your marketing efforts. If that's your situation, consider reaching out for help from a B2B marketing agency, like GrowthMode Marketing. We've helped clients from a variety of industries not simply address these marketing challenges, but effectively use marketing to grow. Contact us today to learn more!
Sources:
[1]https://blog.hubspot.com/blog/tabid/6307/bid/33820/5-major-challenges-marketers-face-and-how-to-solve-them.aspx
[2]https://www.campaignmonitor.com/blog/email-marketing/2016/01/70-email-marketing-stats-you-need-to-know/
[3]https://www.emarketer.com/Article/What-Keeps-Marketers-Up-Night/1013534
Subscribe

Receive alerts when new posts are added

Our Latest Tweet

Time to celebrate! GrowthMode Marketing is No. 1,119 on this year's #Inc5000 list. See the full list here:… https://t.co/BidoddAxaz