5 Steps to a Comprehensive Content Marketing Strategy
By: Mary Nguyen, Strategic Account Director at GrowthMode Marketing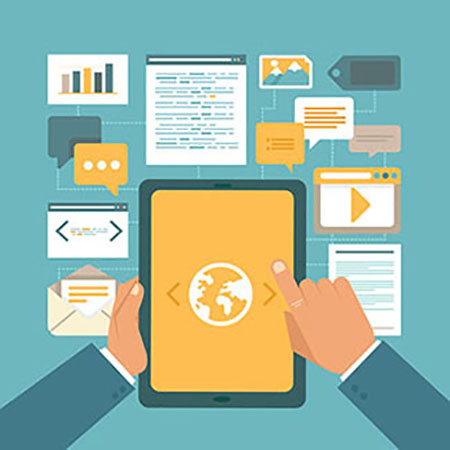 Remember the concept that it takes about 21 days to form a habit? While that number has proven to be a myth (and scientists are trying to determine a true number!), the point is that habits are formed from consistency. Forming good habits through consistency applies not only in your personal life, but in your professional life as well. In fact, according to McKinsey & Company, "the 3 Cs of customer satisfaction" are "consistency, consistency and consistency." 
Based on our experiences at GrowthMode Marketing, we've found that this idea also applies to building an effective content marketing strategy – consistent planning, messaging, review, execution, and measurement are all important elements that help establish yourself as a thought leader AND positively impact your company's bottom line.
We'll take you through five key steps of a comprehensive content marketing strategy that you can turn into great habits at your organization.
Audit existing content
Know who you're talking to
Establish the content journey
Develop a content calendar
Measure and report
Audit existing content
Content marketing can feel like a daunting initiative, but it doesn't have to be. Start by knowing what content pieces you already have. While this task may be tedious (unless you're a super organized marketer who already has every content piece catalogued), it is a worthwhile process because you can determine the following:
What content is being used and what isn't. Did you know that up to 70% of B2B content goes unused1?! That is a staggering number that makes our team cringe when we think of all the time and money that was spent and then wasted. So audit the usage of your content often so that previous efforts don't fall into a black hole.
Determine which content pieces get used most effectively. By measuring and identifying which content types and topics produced the most conversions and how far it took a lead into the sales process, you'll be able to replicate the success by creating more content that yields results.
Refresh old/existing content. Just because a content piece was used before doesn't mean it can't still be used for other purposes. In fact, almost 60% of marketers reuse content two to five times. They generate "snackable" content based on assets2. Consider the content pillar approach by taking your larger content pieces like white papers, eBooks, webinars and such and turning them into "snackable" variations with emails, social media, video, infographics, motion graphics and more.
Identify content you're lacking altogether. By knowing what pieces you do have, you can also determine the gaps in your content repertoire and start planning to generate new content.
Know who you're talking to
A critical component of content marketing is knowing who your target audience is. Your content marketing efforts will go down the drain if you're talking to the wrong people. Consider the following:
Involve key stakeholders – Don't guess who your audience is; get input from the people who are on the front lines connecting with prospects and clients like Sales, Service and Product Management.
Develop customer personas – Identify your audiences' challenges, pain points, trends in their industries, etc. in order to create personalized content that will resonate with each group. The content you create for a C-level executive may be very different than a content piece you develop for a floor supervisor, for example.
Document and publish – Make sure to document and publish this important information with your stakeholders. Review it often and make any adjustments as changes happen – it may affect the content you produce.
Establish the content journey
It's important that the marketing content pieces you're creating align with the customer purchasing process to ensure that your resources are allocated effectively. After all, content marketing costs 62% less than traditional marketing and generates about 3 times as many leads3. Knowing and understanding customer behaviors is key to knowing what types of content to create and also when it is appropriate to share them. Here are some tips:
Partner with your friends in Sales – Who better to help you understand the customer purchasing cycle than the Sales team?! Sales reps have intimate knowledge of the sales cycle and the triggers that can initiate a conversation. You may find that you have been under communicating with your audience and therefore need to increase your communications frequency.
Don't forget existing customers – Just because they're already customers doesn't mean there aren't opportunities to continue to market to them. As with Sales, partner with the Service team to establish a content strategy that works for your customers.
Create the right pieces at the right time – Mapping the right content to the right time in the purchasing process is crucial to higher response rates and conversions. Again partner with Sales and Service to get agreement on the right content for each stage. Make sure to communicate on a regular basis when marketing content is available for use and show them where to find it.
Develop a content calendar
Having spent valuable time auditing all of your content and talking to your Sales and Service colleagues about your target audience and content mapping, the next logical step is creating a content calendar (or also known as an editorial calendar) to help you plan for resources, budget and timing. Include the following:
Published schedule with dates – A shared document that contains content ideas and dates will help establish a production schedule that your team can follow. The further ahead you can plan, the better; it also helps you adjust when events happen that you didn't plan for. Allow for flexibility when events may require you to move pieces around. Consider collaboration tools like Basecamp or Google docs to develop and publish your content marketing calendar (or Google Sites if your company uses Google Business for its company intranet)
Various distribution channels – Knowing that you will publish a white paper in February is great, but knowing that you will be using it as part of an email campaign, blog post and infographic will give your content more legs to stand on. Remember, your different target personas may digest content differently so it's important to provide different ways to access it.
Identify content owners – Whether it's refreshing content or creating new content, it's important to establish responsibilities for your team. And look beyond the Marketing team, too; you may find that your colleague in product management has a knack for writing and can establish him/herself as a resource for future content!
Measure and report
Did you know that only 27% of B2B marketers say they are effectively tracking content marketing utilization metrics4? Without this important data, it's difficult to understand what content pieces are being used and how they're converting. By establishing a process to track content utilization, you will spend your time more effectively creating content that works. Consider this:
Create an internal content repository – Make all of the great content you're generating easily accessible to everyone within the organization. And make sure that wherever you're housing them, you can audit which pieces are being downloaded and how often. Internal usage and familiarity of the marketing content will help establish sharing on social media networks.
Marketing automation system for media tracking – Marketing automation providers realize the importance of marketing attribution. These systems allow you to create custom tracking codes for your content pieces as well as the different media channels you're using to push out that content.
Analyze, report and make adjustments – Use the data you collect to establish overall marketing metrics that tie in content marketing utilization. Provide reports to company stakeholders to establish how marketing contributes to leads, sales and revenue.
Like many things in life, the more often you do something, the easier it gets. Remember that establishing consistency with your content marketing strategy will help you create a well-oiled marketing engine that will position you as an expert in your field and help contribute to your company's success. Consider this final statistic: Year-over-year growth in marketing's contribution to revenue is more than 6x higher for leaders compared to followers (10.2% vs. 1.6%)4. So start developing your content marketing strategy today!
Become an industry thought leader
Content marketing is a key strategy to create brand awareness and generate leads. If limited internal resources are keeping you from establishing your team as industry thought leaders, GrowthMode Marketing can help. We're experienced content marketers who have helped high growth organizations become market leaders. Contact us today to learn how we can help you build a content marketing program that drives results.
1SiriusDecisions
2LookbookHQ
3DemandMetric
4Aberdeen
Subscribe

Receive alerts when new posts are added

Our Latest Tweet

Time to celebrate! GrowthMode Marketing is No. 1,119 on this year's #Inc5000 list. See the full list here:… https://t.co/BidoddAxaz